The Delegation of diplomatic envoys from Pacific island countries and Caribbean island countries visited Yancheng.

From 14th to 16th in December, organized by America division and Oceania division of MOFCOM and China International Contractors Association, the Surinam ambassador Lloyd Lucien Pinas led his delegation of diplomatic envoys from Pacific island countries and Caribbean island countries to visit Yancheng. During their stay in Yancheng, they investigated our automobile, new energy seawater desalination, wind power generation, saline soil agriculture project, etc. The deputy party secretary and acting mayor Dai Yuan and the director of provincial Department of Commerce Ma Minglong respectively met with the delegation. The chairman of the China International Contractors Association Fang Qiuchen accompanied during the investigation.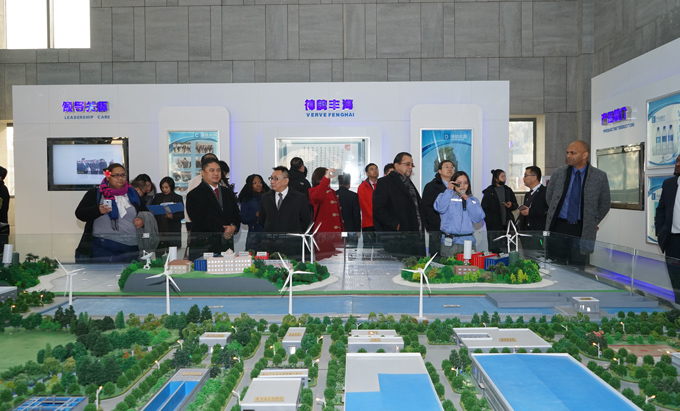 On behalf of municipal party committee and municipal government, Dai Yuan extended welcome to the visit of the delegation to Yancheng and extended gratitude to the care and support of MOFCOM, China International Contractors Association and provincial Department of Commerce. He said, Yancheng is abundant in marine resources. Its coastline is 582 kilometers. The total installed capacity of wind turbine generator ranks first in Jiangsu province especially the total construction scale of offshore wind power ranks first among prefecture-level cities. The development strength of industries like automobile, new energy, energy saving and environmental protection, high-end equipment, modern agriculture is strong. Therefore, Yancheng has broad cooperation room with those island countries. We will actively implement our national "Belt and Road" strategy and further strengthen the bilateral friendly communication. We hope the both sides will share the experience and result of development by taking this opportunity of visit and carry out practical cooperation in seawater desalination, wind power generation and realize win-win development.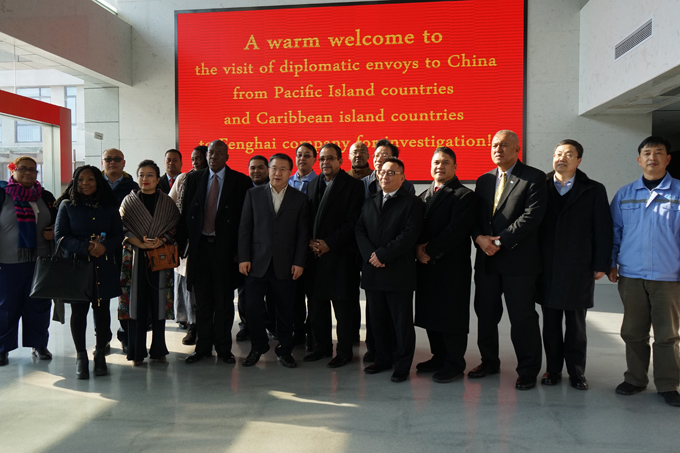 The 10,000T new energy seawater desalination demonstration project is the first off-grid wind power seawater desalination project that operates independently with the largest capacity in the world, which can effectively solve power and fresh water supply on islands and other regions. During their stay in Jiangsu Fenghai New Energy Seawater Desalination Development Co., Ltd., the delegation showed a strong interest in this project and thought it meets their actual needs and is beneficial for their people and the sustainable development of island countries. They also indicated that they will take the initiative to recommend this project to their government after return. The delegation also looked over the R&D demonstration center, CRRC Electric Co., Ltd., Gold Wind Sci & Tech Co., Ltd., TPI, modern agricultural demonstration park of Harvest Land, deep processed agricultural projects like Jerusalem artichoke, said that the salt-tolerant cultivation and high-end industry of marine organism provide a new idea for developing marine resources in island nations.
During the symposium, the delegation extended their gratitude to Yancheng government for the hospitality and considerate service after listening to the introduction of our municipal economic and social development and they thought the ecological environment of Yancheng city is very nice and the development of science and technology here is full of vigor. Yancheng has a solid foundation of new energy industries especially the seawater desalination project left them with a very deep impression. The both sides are expecting to exert their advantages to deepen exchanges mainly focusing on seawater desalination, wind power generation, modern agriculture, etc. to implement productive cooperation.

Wang Runliang, the inspector of provincial Department of Commerce and Zhou Shaoquan the deputy mayor of Yancheng city also accompanied in the investigation. Other attendees include the relevant people in charge from municipal Bureau of Commerce, Foreign Affairs Bureau and Dafeng District.