Project Case
1. 10,000m3/day Demonstration Project
The company has the world's first micro-grid wind powered desalination demonstration base with 10,000m3/day capacity. Water intake and pretreatment system, seawater desalination system, bottling system and micro-grid power supply system are mainly constructed in the project. The design capacity for fresh water production is 10,000m3 per day.
2. The first set of "containerized wind powered seawater desalination system"
Scale: 100m3 fresh water per day
System Composition: a set of 100KW wind turbine
a set of 30KW hydraulic tower wind turbine
250kWh lithium iron phosphate battery
a set of 100m3/d 2-pass seawater reverse osmosis (RO) desalination system
a set of 58KW diesel generator
Ultrafiltration (UF), 2-pass RO is employed. The quality of yielded water meets China drinking water standards. Moreover, 53 indicators tested by Swiss SGS Group as per Japan drinking water standards are all met. The system has been running stably.
Process Route: Water intake from an enclosing area – raw water buffer pool – self-cleaning filter – UF – security filter – first pass RO – first pass RO permeate water tank – second RO – product water pool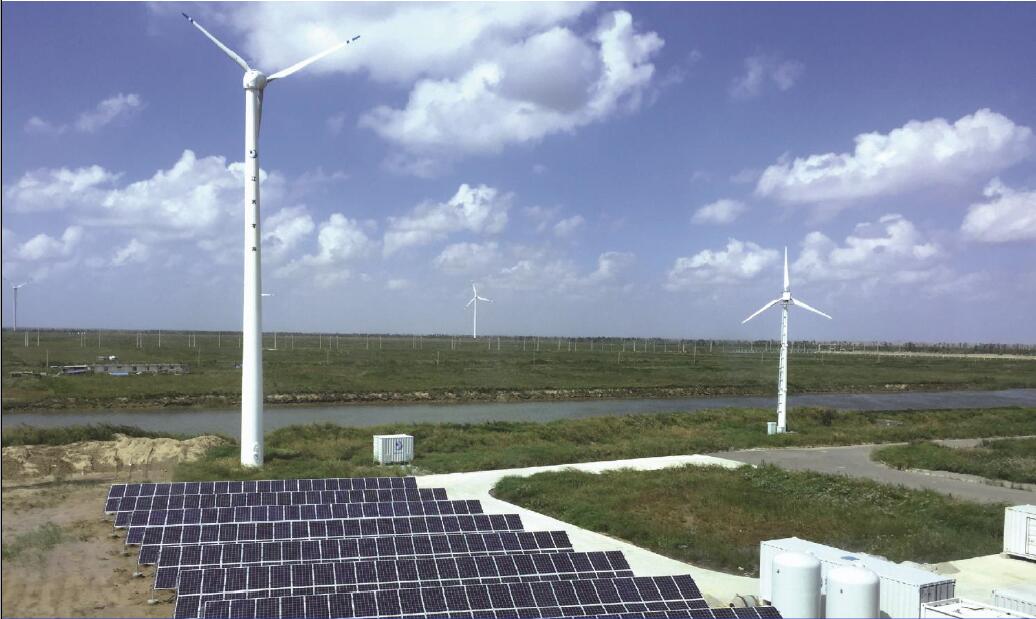 3."Containerized wind and solar powered intelligent micro-grid seawater desalination system" in an island in Hainan province
Scale: 100m3 fresh water per day
System Composition: a set of 100KW wind turbine
100KW photovoltaic equipment
100KW energy storage
a set of 100m3/day 2-pass seawater RO desalination system
a set of third pass RO device
a set of bottling line for barreled water
On December 31, 2016, the system successfully yielded water, whose conductivity is 4.38μs/cm with good quality.
Seawater Desalination Process:
Borehole water intake – sand filter – primary security filter – secondary security filter – first pass RO (sub-type) – second pass RO – third pass RO
4.Kaishan Island Patriotism Educational Base – Micro-grid and Seawater Desalination Project
The 10m3/day containerized seawater desalination equipment consists of water intake system, inclined tube sedimentation tank pretreatment system, sand filtration pretreatment system, first pass and second pass RO system and constant pressure water supply system. It is also equipped with a direct drinking water system since the second pass RO permeate of the equipment can be directly consumed. On June 1, 2019, the equipment successfully yielded fresh water, and all the indicators of the second pass RO permeate water meet the requirements of the Standards for Drinking Water Quality (GB5749-2006).
Desalination Process: shadow seawater intake – inclined tube sedimentation tank – sand filter – primary security filter – secondary security filter – first pass RO – second pass RO – second pass RO permeate water tank – hilltop water tank – direct drinking water/domestic water