Ambassador LEE HON CHONG and his retinues visited Fenghai.

on the afternoon of July 31, 2016, the ambassador of the Republic of Mauritius LEE HON CHONG and his party came to our company for investigation and talked over the foreign-aid project of new energy seawater desalination equipment set mainly centered on the earlier-stage work. District leader Luo Qiang and the general manager Yang Hongxun and technical director Xu Weiguo of our company were accompanied on the investigation.
The core technology of our company is "large-scale off-grid wind power seawater desalination technology", which is authenticated of international advanced level by China High-Tech Industrialization Association as scientific and technological achievements. Its 10,000T new energy seawater desalination equipment set is affirmed as the first important set in Jiangsu province. This project is supported by a number of advanced technology integrations and is a science and technology demonstration project realizing resource conversion and energy resource utilization. Its application and promotion can effectively solve energy resources and fresh water supply problems to islands, deserts and other remote areas and is of significant meaning to relive global energy resources and fresh water shortage.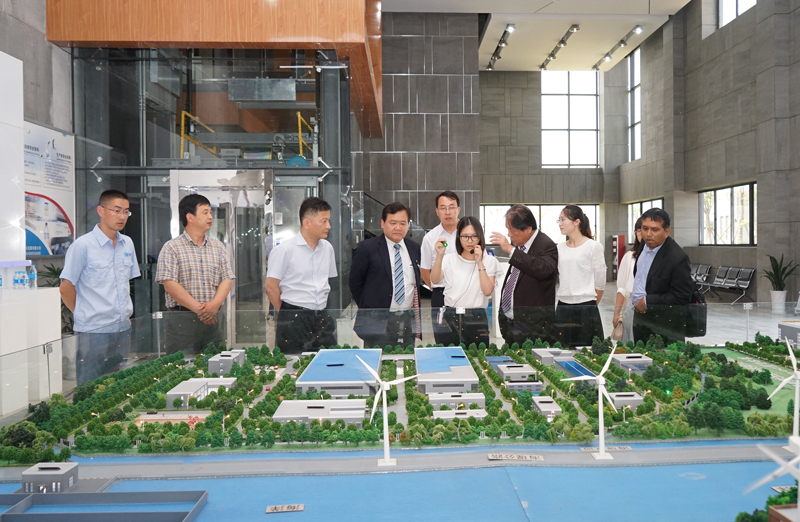 During the investigation, the Mauritius delegation went to all of our workshops like central control room, seawater desalination workshop, bottle filling workshop, microgrid control centre, complete equipment assembly site of engineering and technological research centre to know more about new energy seawater desalination. The project construction, technology integration, process flow, market development, science and technology research and development are all well comprehended during the visit. The core technology and advanced development of new energy seawater desalination industry had left the delegation a very deep impression.
At last, the delegation extended their thanks to the support from the Chinese government and our company. They are promised to report and apply for this project as soon as possible and make their effort to have the project implemented, strengthening the friendship between the two nations.